Birthdays - Parties - Festivals - Club Meetings
Wondering what to do for your child's next birthday?
What could be more exciting than having a draft horse in your very own yard? One of our beautiful wagonettes or carriages with Driver and Footman will await you and your guests as you prepare to ride.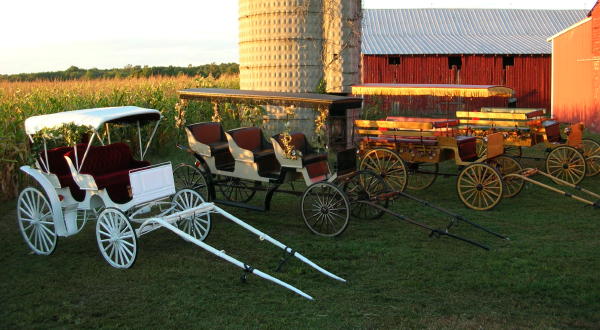 Theme parties are always fun. Choose a wagonette for your little cowboy/cowgirl or a Country Western Hoedown. Our fringed top surrey is a great addition to a Victorian tea. If having a Cinderella or Princess Party, our white surrey with red velvet seating is just what you need.
All wagons and carriages are adorned with decorations, but add your own if you like. Balloons and banners of you own choosing will be put on the carriage by your footman upon arrival.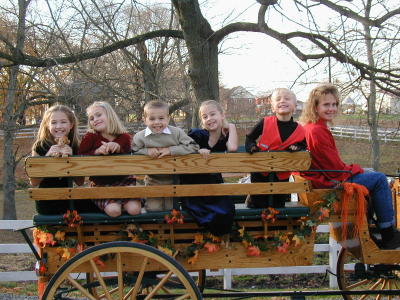 Our 6-8 passenger Oak Wagonette is an entertaining addition to any get together. With a cool beverage in hand, your family and friends will enjoy a relaxing ride through your town. Traveling at the pace of a by gone era allows time for reflecting on the past while enjoying the presence of each other. If the weather doesn't want to cooperate, select the burgundy wagonette with a fringe top roof. ds.
Country Carriage Rides
Leaving from the original homestead built in 1786, we will ride along one of the only remaining dirt roads in the Southampton area. You will cross two quaint wooden bridges while going over the Jade Creek. Pass farms and fields in their different stages of planting, growing and harvesting.
While riding, your driver will be happy to talk to you about life on a modern day family farm, and the significant events that have taken place on this very farm.
Your ride will take you by several horse farms before returning to our point of departure. Ride length is approximately 45 min to 1 hour long.
Learn More
For scouting groups or other educational purposes, we can incorporate a grooming and harnessing demonstration along with information on basic horse care.